Discover the captivating beauty of the UAE deserts, each offering a unique and enchanting experience. From the majestic sand dunes of the Rub Al Khali to the cultural heritage of Liwa Desert, and the picturesque landscapes of Al Qudra, immerse yourself in the vastness and serenity of these extraordinary desert destinations.
1. Big Red Desert
Big Red Desert, located at the border between Sharjah and Dubai, is a must-visit destination. As you drive away from the city, you'll witness the deepening red color of the desert. Big Red itself is a popular spot for dune bashing and offers a picturesque escape from the hustle of Dubai. It attracts both amateurs and professionals due to its easy-to-navigate dunes. On weekends and holidays, the area buzzes with adrenaline-seeking motorists showcasing their skills with motorbikes, buggies, quad bikes, and jeeps.
The coordinates for this location are 24.969919230283388, 55.72327668101903.
---
2. Al Qudra Desert
Al Qudra Desert, situated off the Al Qudra Road in Dubai, is a popular destination for day trips and picnics. Its close proximity to the city makes it an ideal escape while still being surrounded by civilization. Residents often set up barbecues and enjoy leisurely evenings on picnic blankets. While it may not be suitable for dune bashing enthusiasts seeking high dunes, it offers a serene atmosphere for relaxation.
The coordinates for Al Qudra Desert are 24.988678421118355, 55.34756365010763.
---
3. Liwa desert
Liwa Desert, also known as Rub Al Khali or "The Empty Quarter," is a captivating destination for experienced dune-bashers. It is the largest desert in the Arabian Peninsula, bordering Saudi Arabia, Oman, and Yemen. Liwa is renowned for its annual festivals and challenges. The Moreeb Dune, the tallest dune in the UAE, is a must-see attraction. Novice drivers should travel in a convoy or with a guide to avoid getting lost. While camping is possible, venturing deep into the Rub Al Khali alone is not advised. Explore the town of Liwa for a glimpse into the region's heritage and history.
---
4. Buried Village of Al Madam
Al Madam, also known as the "Madam Ghost Town," is an abandoned village located on the edge of the Dubai border in Sharjah. Dating back a few decades, the village now lies partially buried in sand, creating a unique and eerie sight. The village was built in the 1970s as part of a housing project, with rows of identical houses and a mosque in the corner. According to local legend, the village was once inhabited by the Al Kutbi tribe, but they left due to the presence of jinns, supernatural creatures believed to exist in the Islamic faith. Visiting Al Madam provides an intriguing glimpse into the engulfment of houses by the desert. The coordinates for Al Madam are 24.894612, 55.763894
---
5. Al Faya Desert
Al Faya Desert, located along the Sharjah-Kalba Road in Sharjah, is a must-visit destination for its spectacular ruby sand dunes. Whether you're an amateur or a skilled driver, you'll appreciate the size of the dunes, which are larger than those at Al Bidayer. It is known as "Big Fall" due to having some of the biggest dunes for thrilling rides. Al Faya Desert is also a popular spot for tourists to set up camp and enjoy the mesmerizing starry nights. The coordinates for Al Faya Desert are 24.300305395033043, 54.9669999886588.
---
6. Mleiha Desert
In the deserts of Sharjah lies a UNESCO Heritage Site that offers breathtaking natural landscapes and a glimpse into the traditional Bedouin way of life. This visitor attraction combines history, nature, and culture, providing a unique experience. For those seeking adventure, riding a quad bike or dune buggy over the sand is a thrilling option. Alternatively, you can embark on a trek to Camel Rock, where you'll be rewarded with expansive desert views. The surrounding area is perfect for setting up a desert camp on soft dunes and enjoying the starry night sky. The location of this desert paradise is in Sharjah, with coordinates 25.141154150479796, 55.85798333004225.
---
7. Lahab Desert
Lahbab, renowned for its stunning red sands, is a must-visit destination. It is particularly popular among new campers, offering a memorable experience. Fossil Rock, located nearby, is a great spot for stargazing. Enjoy a delightful barbecue while taking in the beautiful surroundings. Adventure seekers can tackle the impressive "Big Red," a 300-foot high sand dune that provides an exhilarating dune bashing experience. For more camping options, you can explore the peaceful village of Madam near the Hatta border crossing, where wandering camels from local farms may accompany you. The coordinates for Lahbab are 25.050124501814, 55.59266294671861.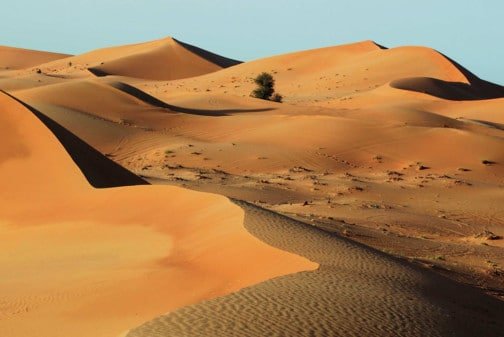 ---
8. Sweihan
Sweihan, located in Abu Dhabi and bordering the cities of Abu Dhabi, Dubai, and Al Ain, is often referred to as "Little Liwa." It serves as a practice ground for Liwa desert enthusiasts. Sweihan stands out from other deserts, featuring big dunes and soft sands, making it suitable for experienced drivers only. With proper guidance and GPS, visitors can witness a plethora of camels and lone Emiratis with their falcons in this area. One notable attraction is Naqrah, a sand dune deep within the Sweihan desert, which is a must-try for dune bashing enthusiasts. The coordinates for Sweihan are 24.399723724671137, 55.28281904885302.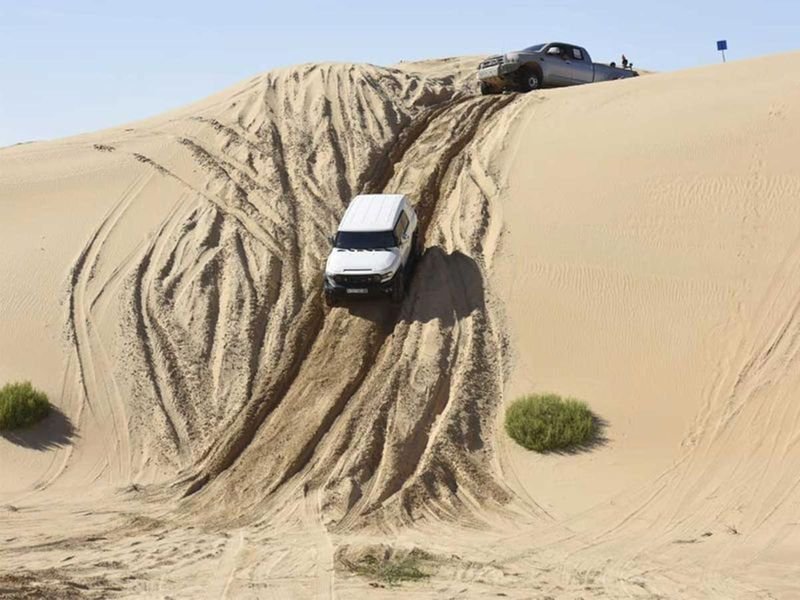 ---
9. Al Khaznah Desert
The desert stretch between Al Ain and Abu Dhabi offers a paradise for off-roading enthusiasts. It provides a serene and uninterrupted desert landscape with minimal traffic. Novice off-roaders are advised to travel in a convoy of two to three vehicles for safety. Don't forget to pack warm clothes as the temperatures can drop significantly at night, causing chilling conditions. Along this route, you'll also find Al Khaznah, a popular stop for desert safaris and camps if you prefer a group experience. The location of this desert stretch is in Abu Dhabi, with coordinates N24°26.004, E54°49.579.
---
10. Al Hayer Forest
Located on the Dubai-Al Ain stretch, this hidden gem in Abu Dhabi offers a unique desert experience often overlooked by visitors. It features a green patch, providing a refreshing contrast to the surrounding desert landscape. This spot is conveniently situated close to the highway, allowing for easy access and maneuvering. After rainfall, camping at the green patch is especially delightful, although it's important to be cautious of the critters that inhabit the area. The coordinates for this location in Abu Dhabi are 55.800970, 24.741969