Explore Dubai's diverse allure, from its natural beauty to its vibrant culture. Discover how the affluent live large in this city, as we take you on a journey through luxury and opulence.
Luxury Experiences
Experience the Thrill of Driving an Aston Martin
Loaded with cryptocurrency funds, the instinct to upgrade your ride kicks in. Sure, you could opt for a flashy Lamborghini, but nothing whispers sophistication and wealth like an Aston Martin – a favorite of James Bond. Enjoy being behind the wheels of a DBS Superleggera Volante, boasting a 715BHP 5.2-liter V12 engine at a cost of Dhs1.3 million + VAT. Language falls short in capturing the experience – it's like piloting a fighter jet with goosebumps from the engine's roar. It's a million-dollar feeling.
Charter a Super Yacht
Dubai offers numerous charter companies, but Balthazar Yachting stands out with their colossal sea giants.
At the helm is the magnificent 282ft Chakra, boasting a sundeck jacuzzi, swimming pool, gym, massage parlor, piano, beauty salon, outdoor bar, elevators, a 30-member crew, and accommodation for up to 36 guests. All this luxury can be yours for just under Dhs2 million per week. balthazaryachting.com
Display a Message on Burj Khalifa
Got a message to share? Skip social media and go big by beaming it on the world's tallest building, the Burj Khalifa. For Dhs250,000, Emaar offers three minutes of prime airtime on its famous LED panels. Your message can reach almost a kilometer high, but don't forget to proofread before you shine. @burjkhalifa
Explore dazzling jewelry at Gold and Diamond Park
Dubai adores all that glitters, especially in its fashion. For top-notch jewelry, head to the Gold and Diamond Park on Sheikh Zayed Road. You can even customize your bling. Check out Cara or Damas for classic luxury.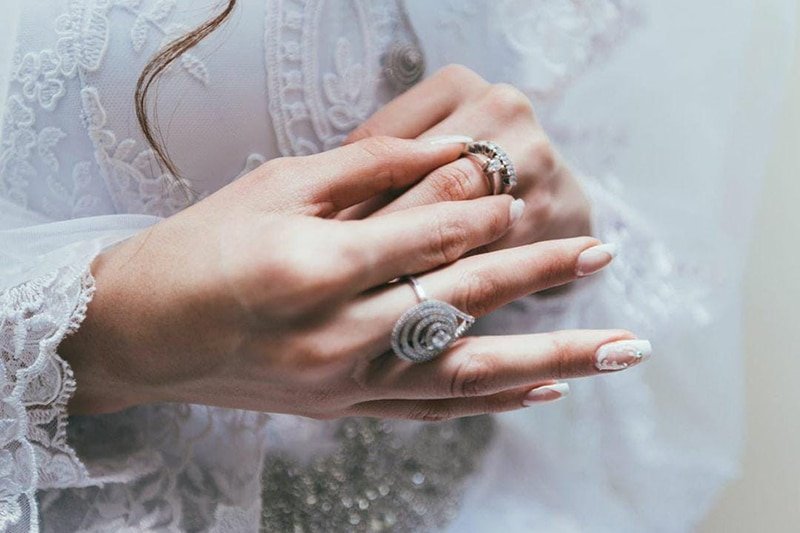 Private Jet Travel with Fly Five
Experience the epitome of luxury travel with Fly Five, a private jet charter service provided by Five Hotels and Resorts. Step into an exclusive world where opulence knows no bounds. The ACJ TwoTwenty jet offers a lavish experience, accommodating up to 16 passengers in unparalleled comfort. Onboard, you'll find a fully-equipped kitchen, a 55-inch TV screen, and a spacious king-sized bed with an ensuite bathroom. Fly to destinations within a 12-hour flight radius and revel in the luxury of private jet travel. comeplayfly.com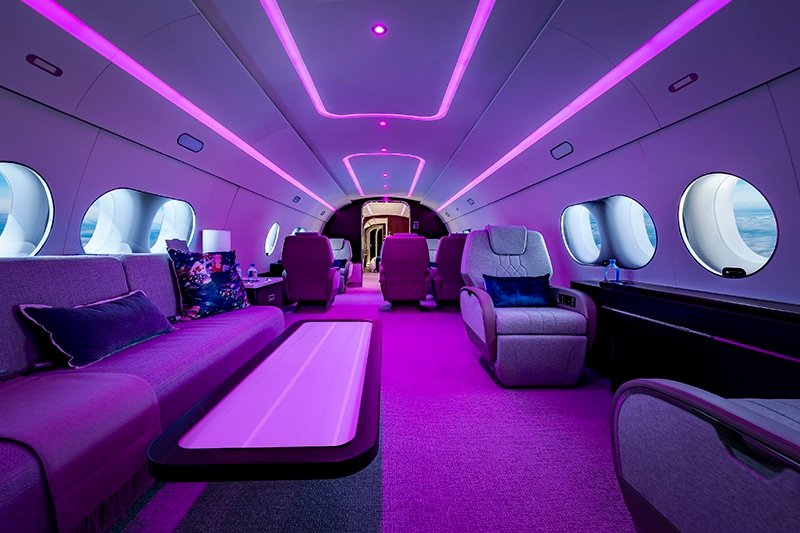 Own a Piece of Paradise on a Private Island
Escape the hustle and bustle of Dubai by considering the ultimate luxury investment: your very own island or villa in the Heart of Europe development by the Kleindienst Group. This exceptional project comprises a network of six man-made islands, complete with floating 'seahorse' villas. The lavish seven-bedroom Beach Palaces, found on 'Sweden,' offer a plethora of amenities, including infinity pools, private beaches, a snow cave, a coral garden, and even an upturned Viking vessel observatory on the roof. This opulent lifestyle can be yours for a price starting at Dhs125 million.
thoe.com
Helicopter Tours with HeliDubai
Soar above the iconic skyline of Dubai with HeliDubai's exhilarating helicopter tours. While various packages are available, the crème de la crème is the private Grand Tour. For Dhs7,965, you can embark on a dedicated 30-minute flight, encompassing all the city's must-see landmarks, including The Palm, The Marina, Downtown, both Burj Khalifas, the Dubai Frame, and more. Enjoy the sights from the sky without the hassle of traffic or queues.
helidubai.com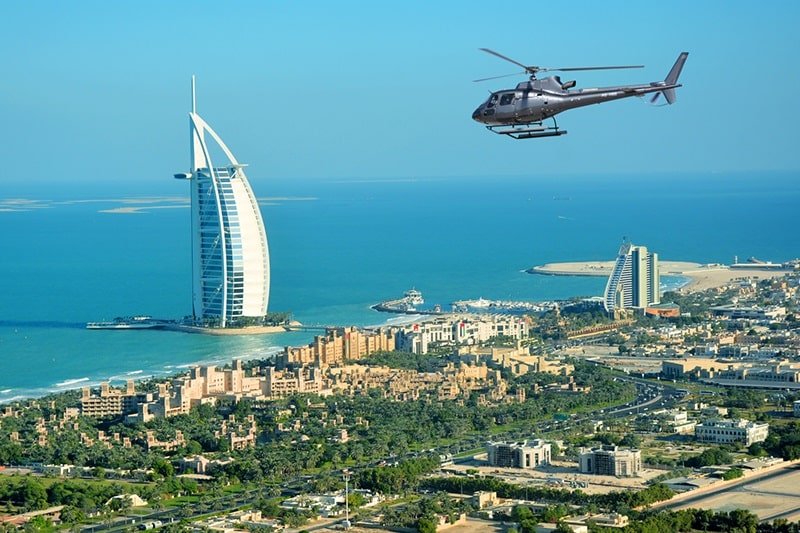 Invest in Gold with Gold to Go ATMs
Dubai's extravagance extends to the way you can buy gold. Thanks to Gold to Go ATMs, you can purchase gold coins or bars at your convenience. These unique machines are located in various prestigious locations, such as Dubai Mall, Atlantis, Souk Madinat, and Emirates Palace Mandarin Oriental Abu Dhabi. With an internal computer that updates prices every 10 minutes, you can keep up with real-time fluctuations in the gold market.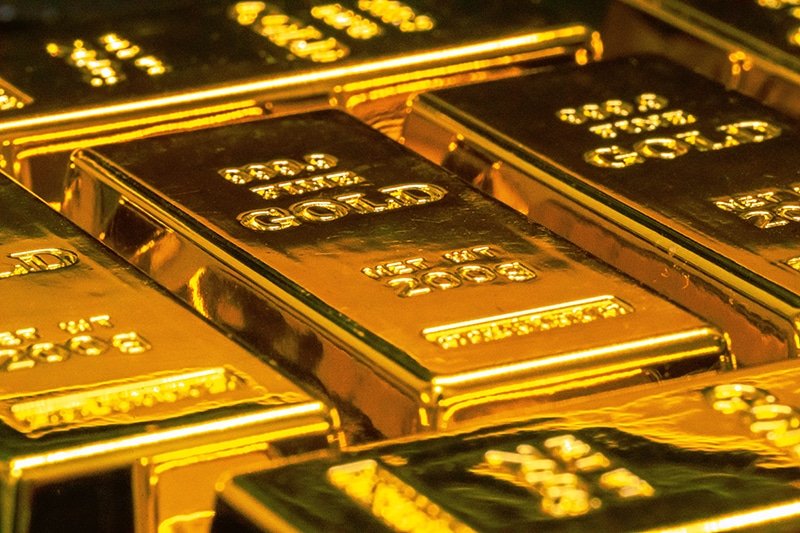 Arabian Adventures' Golden Hour Escape
Elevate your desert safari experience with Arabian Adventures' private Golden Hour Escape. This hyper-luxurious desert escapade includes all the classic safari activities, along with added extravagances. Enjoy a live harpist's enchanting melodies, a private falcon show, a bottle of premium champagne, and a delectable five-course dinner at Al Maha Desert Resort & Spa. For an even more exclusive experience, opt for return helicopter transfers, making the total package incredibly reasonable at Dhs27,000.
arabian-adventures.com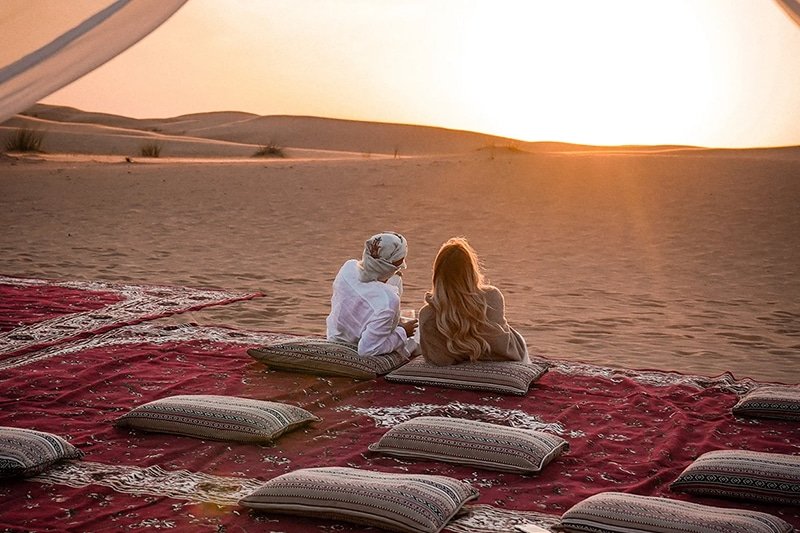 Try a Vampire Facial at Blue Tree Clinics
For those seeking a rejuvenating and youth-enhancing treatment, consider the platelet-rich plasma therapy, often referred to as the vampire facial. Blue Tree Clinics offers this service, where a small amount of your blood is drawn, and platelets are extracted and applied to your face. Prices for this treatment start from Dhs1,000.
bluetreeclinics.com
Exclusive Dining Experiences
Indulge in a world of culinary extravagance with these exceptional dining experiences:
Krasota: A Multi-Sensory Tasting Menu
Krasota, curated by Vladimir Mukhin, known for his appearances on Netflix's Chef's Table, offers an avant-garde dining experience. This "gastro-theatre" presents an eight-course tasting menu, with each dish as an "act" paying tribute to renowned artists. Dine at a 20-seater spherical table amidst captivating multimedia theatrics.
Location: Address Downtown, Downtown Dubai
Timings: 8:30 pm (Sun to Thurs), 6 pm and 9:30 pm (Fri and Sat)
Price: Dhs1,830
Contact: Tel: (0)4 433 1258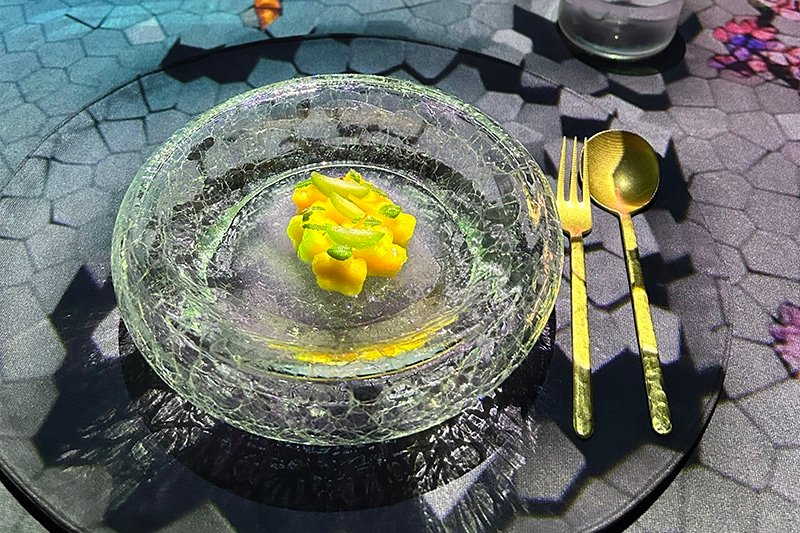 Gaia: An Exclusive Chef's Table Experience
Gaia, a beloved DIFC eatery renowned for its Greek flavors, offers an intimate dining experience. The Chef's Table, located adjacent to the kitchen, provides a front-row seat to culinary mastery.
Location: Podium Level, Gate Village 4, DIFC
Timings: Daily 12 pm to 3 pm and 7 pm to 11:30 pm
Price: From Dhs5,000
Contact: Tel: (0)4 241 4242
Nusr-Et: Signature Golden Ottoman Steak
Nusr-Et, famous for its viral salt-sprinkling video, is a steakhouse within the Four Seasons Restaurant Village. Indulge in the giant Ottoman steak, a 1,750g bone-in ribeye with mustard marination, generously adorned with gold leaf.
Location: Four Seasons Restaurant Village, Jumeirah 2
Timings: 12 pm to 12 am daily
Price: Dhs5,000
Contact: Tel: (0)4 407 4100
Ristorante L'Olivo at Al Mahara: Romantic Underwater Dinner
Experience a unique underwater dining at Ristorante L'Olivo, located in Burj Al Arab's stunning aquarium. Enjoy a special set menu with five courses of world-class seafood, premium wines, and a memorable message from a skilled diver.
Location: Burj Al Arab, Jumeirah
Advanced Notice: 48 hours
Price: Dhs9,900
Contact: Tel: (800) 3232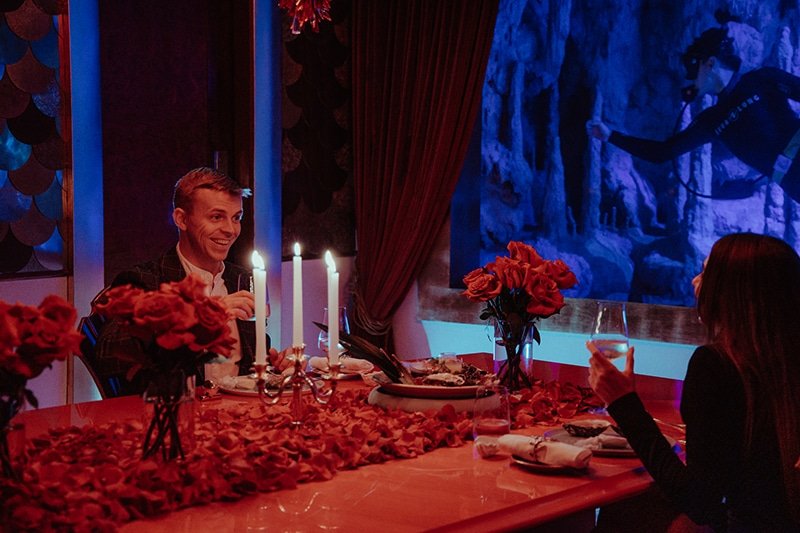 Shangri-La Dubai: Private Dining in the Sky
Elevate your dining experience at Shangri-La Dubai's 42nd-floor terrace, offering breathtaking views of Burj Khalifa and the skyline. Create customized menus for special occasions with experiences starting from Dhs4,500.
Location: Sheikh Zayed Road, Dubai
Advanced Notice: 48 hours
Price: From Dhs4,500
Contact: Tel: (0)4 405 2703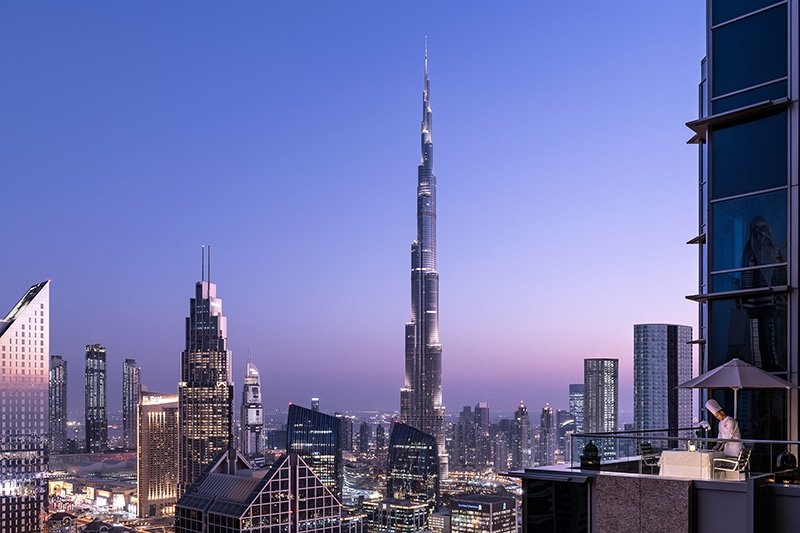 SKY2.0: VIP Table at Dubai's Premier Open-Air Super Club
SKY2.0, Dubai Design District's renowned open-air super club, offers VIP tables for a star-studded nightlife experience. Enjoy elevated sofa-style seating and the best vantage points for entertainment.
Location: Dubai Design District
Timings: Thurs to Sat, 10:30 pm to 4 am
Minimum Spend: Around Dhs10,000
Contact: Tel: (0)4 587 6333
The Tasting Class: Sommelier-Led Wine Tasting at Home
Experience a sommelier-led wine tasting in the comfort of your home with The Tasting Class. Explore handpicked wine collections and enrich your knowledge while enjoying this educational and entertaining experience.
Advanced Notice: One week
Price: From Dhs2,500
Contact: Tel: (0)50 918 6761
Sensational Suites and Stays
Experience Dubai's most luxurious accommodations:

Atlantis The Royal: Live Like A-Listers
The Royal Mansion at Atlantis The Royal, a choice destination for celebrities like Beyonce and Jay-Z, offers an unparalleled luxury experience. This two-floor penthouse is one of the world's largest hotel suites and boasts a host of opulent features, including an entertainment room with a 98" LED TV, a terrace with an infinity pool, and panoramic views of the sea and skyline. The suite also offers a private elevator, a Louis Vuitton ping pong table, and exclusive Hermes bathroom amenities. Though rates aren't specified, it's estimated at around $100,000 (Dhs367,000) per night.
Location: Atlantis The Royal, Palm Jumeirah
Price: From Dhs367,000 per night (approx.)
Contact: Tel: (0)4 426 3000
Website: atlantis.com/atlantis-the-royal
Nikki Beach Resort & Spa: The Ultimate Party Pad
The Celebration Suite at Nikki Beach Resort & Spa is a massive 11,000-square-foot party haven located just above the beach club. It accommodates up to ten guests and features Nikki Beach's signature oceanic design, a spacious dining area, and a state-of-the-art surround sound system. The outdoor space boasts a large terrace with a jacuzzi and an infinity pool overlooking the iconic Nikki Beach Club.
Location: Nikki Beach Resort & Spa, Pearl Jumeira
Price: From Dhs55,000
Contact: Tel: (0)4 376 6000
Website: dubai.nikkibeach.com
Al Maha Desert Resort & Spa: Regal Desert Escape
Al Maha Desert Resort & Spa offers a serene escape in the Dubai Desert Conservation Reserve. The resort features 42 villas nestled amidst the desert dunes, each offering luxurious Bedouin-style accommodations. For an extraordinary experience, book the presidential suite, a lavish three-bedroom villa with a private pool and personalized service. Activities like stargazing, horseriding, and private dinners on the golden sands await.
Location: Dubai Desert Conservation Reserve
Price: From Dhs29,400
Contact: Tel: (0)4 832 9900
Website: marriott.com
365 Luxury Homes: Your Own Private Villa on Palm Jumeirah
Experience the epitome of Dubai luxury by staying in your own private villa on Palm Jumeirah. 365 Luxury Homes offers breathtaking vacation rentals, including a five-bedroom ultra-modern villa with indoor and outdoor kitchens, an open-plan living area, and a private beach. Relax by the infinity pool and enjoy movie nights in the cinema room.
Location: Palm Jumeirah
Price: From Dhs10,500 (minimum two-night stay)
Contact: 365luxuryhomes.com
Palazzo Versace Dubai: A Haute Hotel Room
Palazzo Versace Dubai, a luxurious hotel by the iconic Italian fashion house Versace, presents opulent accommodation options. From premier city view rooms to the 3-bedroom Royal Versace Villa, you can indulge in high-fashion luxury. The villa, spread over two floors, is adorned with Versace furnishings and amenities. It features a 10-seater dining table, a private swimming pool, and access to gourmet dining and leisure facilities.
Location: Al Jaddaf
Price: From Dhs13,000
Contact: Tel: (0)4 556 8888
Website: palazzoversace.ae