Despite Dubai's busy tourism season and events schedule leading to high hotel rates, there are still budget-friendly options starting at Dh200 per night. Here we have mentioned the top 5 hotels.
Ecos Dubai Hotel at Al Furjan
Ecos Dubai Hotel at Al Furjan may not have the best location, but it's a good option for budget-conscious travellers who don't mind being a bit further away from the city's attractions. The hotel's modern lobby welcomes guests with a trendy atmosphere featuring geometric flooring, neon lights, and a cinematic vibe. The rooms are spacious and decorated with black and white illustrated furniture, metal-shelved open wardrobes, and cozy seating areas. Families can benefit from the large rooms that can accommodate up to six people.
The hotel's rooftop infinity pool offers a nice spot to relax with views extending to Expo City. Guests who want to stay fit can use the decent-sized Gymology fitness center or the self-service laundry room for longer stays. The hotel offers dining options at the Palettes all-day dining restaurant, a laid-back courtyard cafe, and Coffea, a specialty coffee bar.
Despite the quiet location, the hotel is just a 15-minute drive from Dubai Marina, 20 minutes from Dubai Parks and Resorts, and 10 minutes from Expo City Dubai.
From Dh200, excluding taxes; hmhhotelgroup.com
The First Collection at Jumeirah Village Circle
Looking for a reasonably-priced four-star hotel in Dubai? The First Collection at Jumeirah Village Circle is definitely worth considering.
This vibrant hotel stands tall over the surrounding residential area, with some rooms offering views all the way to Dubai Marina. While it's a great option for couples and groups of friends, families might find the lively atmosphere less suitable.
The mezzanine-level swimming pool is a highlight of the hotel, with heated water and a stunning cascading waterfall feature. There are two restaurants to choose from: the French-inspired Village Bistro and the lively Latino restaurant Sante Ria, located on the 29th floor. And if you want to hit the beach, the hotel offers a free shuttle service to Riva Beach Club on Palm Jumeirah.
From Dh397, excluding taxes; thefirstcollection.ae
Form Hotel Dubai
Form Hotel Dubai is a unique boutique hotel that offers budget-friendly stays without sacrificing sustainability.
As the first Design Hotel in the Middle East, this 136-room property boasts custom-built beds, walk-in high-pressure rain showers, and grand windows overlooking Dubai Creek and Al Jaddaf. Its all-day dining restaurant, Long Hill Brasserie, serves a variety of international cuisine, while Salus Housetop offers light snacks with stunning skyline views. Guests can also enjoy a 24-hour gym and a rooftop pool to keep up with their fitness routine.
What sets Form Hotel Dubai apart from other hotels in Dubai is its commitment to sustainability. The hotel has implemented plastic bottle recycling, systematic waste management, and a detailed water conservation plan. It also prioritizes sustainable, local, fair trade, and environmentally friendly goods and services, making it a responsible choice for environmentally conscious travelers.
From Dh263, excluding taxes; form-hotel.com
Hampton by Hilton Dubai Al Seef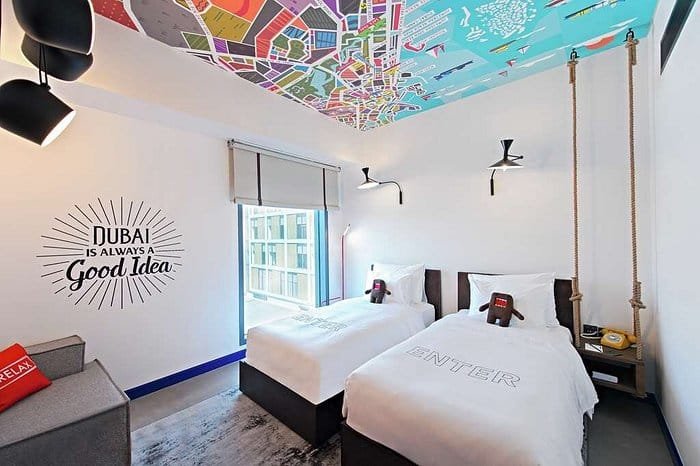 This budget-friendly hotel located along Dubai Creek is a fun and vibrant option. The hotel's spacious lobby features colorful sofas, co-working spaces, and artwork, leading out to a terrace with waterfront views. The rooms are modern and brightly decorated, with open wardrobes, swing-style bedside tables, and pop-art on the walls and ceilings.
The rooftop boasts a narrow pool, complete with basket-style hanging chairs and sun loungers, and the hotel also offers a well-equipped gym. Families with children up to the age of 18 can take advantage of the hotel's policy of free accommodation for kids staying in their parents' room. Plus, as is typical of Hampton by Hilton hotels, guests can enjoy complimentary breakfasts.
From Dh308, excluding taxes; hilton.com
Dubai's budget-friendly hotels offer more than just basic accommodation. For a unique experience and a chance to sleep surrounded by history, the QE2 is an excellent choice.
This floating hotel is spread over 13 levels and features two on-site restaurants. The ninth-floor boasts a nine-metre indoor pool and a fully equipped sports zone. The rooms are designed to resemble cruise-ship-style cabins and have the original porthole windows, providing views of either the city skyline or the Arabian Gulf.
The QE2 Theatre, the original onboard theatre, offers guests an opportunity to enjoy a host of events, concerts and performances. For those who want to learn more about the history of this landmark, daily heritage tours are available for an additional cost, offering a glimpse into what life was like aboard the QE2 during her sailing days.